A Pink Success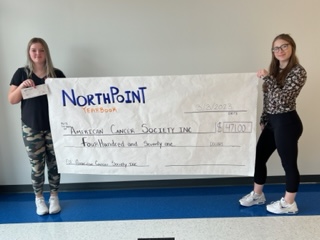 As North Point grows, so does the school spirit. On January 20, 2023, our basketball team held a pink-out night to support breast cancer awareness. The stands were packed with shades of pink and the night was a huge success.
This fundraiser was student-led by two of our North Point students who went above and beyond, Cheyenne Kingsbury ('25) and Chloe Poulsen ('25). They sold shirts during WIN time and at the game. They worked hard to design the perfect shirts which sold out at the event.
"It was really fun designing the t-shirts for this event," Poulsen said. "We had a lot of ideas, but we kept working until we found the perfect template for our shirts."
The yearbook students are constantly working on creating a memorable yearbook, and when they run into roadblocks, they problem-solve.
"We had a page in the yearbook, which was specifically for Pink Night, and half of the spread was done, which was football, but we needed the other half to be basketball," Kingsbury said. 
It took a lot of work to choose a date that worked for all coaches, to design a shirt that everyone liked, and to work on promoting the event. Their yearbook teacher couldn't be more proud of their leadership.
"I was glad the class decided to put this on their plate," Ms. Swanson, their yearbook advisor, said. "I knew I could help, but I needed someone to really take the idea and run with it if it was going to happen and Cheyenne and Chloe really worked hard to make it a success." 
The students not only sold out of shirts, but they also received a check for $471 to be given to the American Cancer Society, which will be given out on March 3. Our school community couldn't be more proud of the dedication these girls put into this fundraiser. 
"It felt really great raising money for all these people, especially because I have a lot of family members that have had cancer," Poulson said. "It just feels really nice knowing that I can help people out financially with problems like that."