Progress on the Green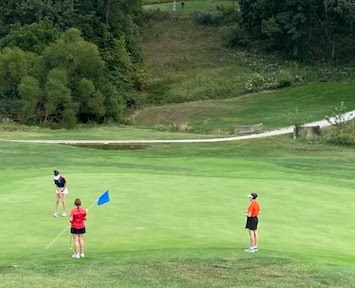 With the new school year of North Point starting, a new sports team makes their debut. The girl's golf team has just begun, but have been making progress in their beginnings of golf.
     Last Tuesday, the team went to Sun Valley to play a match. Although they lost against Liberty, they did win against Winfield. There was some nervousness for the game.
     "I felt really excited, but also extremely nervous," Grace Rogers ('24) said.
Freshman, Ava Betchel was also nervous.
    "I'm pretty nervous for the next few games that'll come along," Ava Betchel ('25) said.
     However, the team managed to pull it off well and take the win against Winfield.
     Most of the girls who have joined the teams are not totally experienced with golf, but have done very well so far, again, according to the golf coaches. 
     Grace Rogers, who is a player in the golf team, has had three years of experience before playing at North Point Golf and has gotten a few awards and accomplishments so far.
     "Our first year has been very exciting so far," Julie Steimel, one of the two golf coaches at North Point said. "I've been loving watching the girl's growth in their game and their confidence. Each of these players have so much potential to become great golfers." 
     There will be more games soon as well, meaning that the players will be able to show more of their skills in the future.
     "I think that having new and unique teammates and new coaches helps us have more fun during practices and even games," Grace Rogers ('24) said.
     Coach Steimel would like to see the girls competing in the Districts and the GAC.
     "The pressure will definitely be intense, but I'd be curious to see how our young ladies would handle it," Coach Steimel said.
     The Girl's Golf team may have started off rocky, but they are continuing to make progress in our first year of North Point Sports.