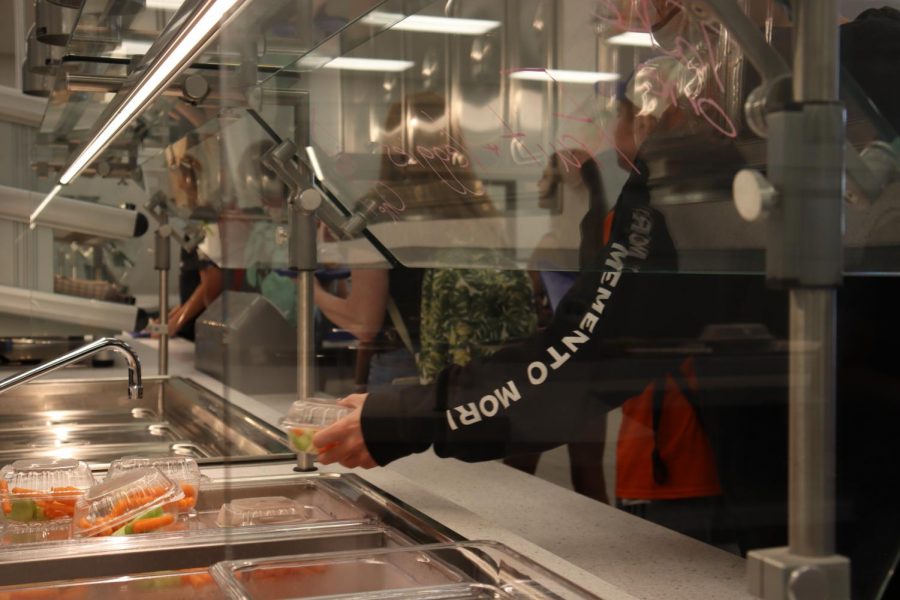 The Inside Scoop on Lunch Inside the Den
Bearing the new normalities of the post pandemic world
The Coronavirus pandemic not only affected our small community, but the entire world. Any issue with this amount of severity, causes havoc to not only one small section of the planet, but even to the smallest details we consider to be normalities, normalities such as lunches, food and preparation equipment availability, and consistent menu items. 
Notwithstanding the pandemic, here at North Point we were able to not only build a united and successful community, but alter what had previously been, in order to sustain the things we currently have to the best of our ability. Nevertheless, North Point as a whole, will continue to provide and care for its students in any way possible. 
Because of Covid-19, shortages amongst food, food preparation equipment and flatware have become prominent. Lisa Dailey, North Point High School's lunch manager, addressed this imperative issue. 
"Shortages on paper products such as bowls, napkins and serving utensils have made lunch preparation extremely difficult," Dailey said. "This will be a tough year for consistency within meals, for quantity of supplies versus demand, and for coming up with menu items within our realm of capabilities".  
Although this is a major issue, our dining staff has been able to provide lunch everyday thus far this year, and will continue to do so even under these challenging circumstances. 
A school-wide survey was conducted and released, in order to observe and collect an insight as to what the student body of our high school currently enjoys about our lunch system, or WIN Time , and to compile a list of their current menu favorites, and possibilities they would like to see on a future menu.
Some of the questions involved in this survey included "What is your current favorite item available for lunch?", "What is one food item you would like to be able to savour at lunch?", "What is a possible cuisine you would like to see on our menu?, and "What is your preferred meal of the day?" In response to these questions, we received a multitude of responses and answers. See the chart of the results, conclusive of the data received.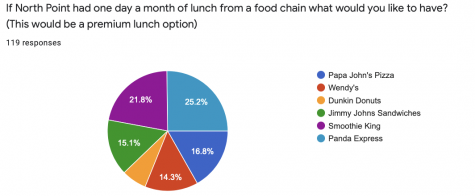 Throughout each question, the answers were all versatile among the prompted questions, giving a grand perspective as to what menu options would greatly benefit our school.  Many students enjoy lunch and dinner options the most and would like to see more healthy options on the menu along with delectably paired desserts such as brownies, slices of freshly baked cake and other types of baked bread. Students also had a profound proclivity toward more broad cuisine varieties within the menu, such as Italian staples like Alfredo pasta and preordered pizza. 
There were also highly requested American favored staples such as bacon cheeseburgers, customizable fries and subs. Asian cuisine was also greatly desired which included dumplings, fried rice, Chow Mein, and other options similar to the highly acclaimed orange chicken and rice dish that is currently available. 
During the interview with Lisa Dailey, it was also mentioned that new menu options are going to be available Sept. 13., some of which include vegetarian options like "chicken" nuggets, meatless nachos, and veggie burgers. There will also be gluten free options such as pizza, buns for cheeseburgers and hamburgers, and chicken nuggets coming to our school this month. Additionally, possible new items to our menu such as toasted ravioli and a coffee machine, which will provide both iced coffee and cappuccinos, and possibly more American adaptations of Italian cuisine. 
"I would also love to make seasonal options too, like Christmas cookies, pumpkin spice bread/muffins/cookies for fall, and other desserts like Halloween treats and more additions to the fresh baked cookies currently available," Dailey said. 
Dailey has lots of hopes as to the new possibilities and menu items.
"I would love to make cheeseburgers more customizable, have bars where people can choose what they would like to have and have more variety in classic American staples," Dailey said.  "There is also a possibility of catering pizza in the future, which I know is definitely going to be a hit with the kids." 
The people most affected by the lunch menu options, the students, were also asked what their stance was on these aspects.
Like lots of other students, Rachel Goldberg ('25) had new ideas for  lunch menu items, particularly desserts.
"I think frozen yogurt would be a great choice," Rachel Goldberg ('25) said. 
When inquired on the topic of what her current favorite offered menu option at North Point was she prefers the fresh greens., "The salads, because they are a fresh and available everyday option."
North Point's "WIN Time", or more widely known as a flexible lunch period, is an hour given to students in the middle of the day for time to eat lunch, work on schoolwork, socialize, participate in clubs available during this time and meet with teachers in order to best help students manage their time and be able to pace themselves throughout the day. North Point is currently the only participating school in the district to partake in this privilege. WIN Time is greatly appreciated by many students.
"I appreciate being able to do homework and get help from teachers," Baylee Wasser ('25) said. 
"I love the freedom and I liked it when the kid [Caleb Cole] played the guitar," Jada Davis ('23) said. 
"I enjoy eating and hanging out with friends and getting homework done," Connor May ('24) said. 
"I love being able to go to a teacher for help instead of having to stay after school, or having to get to school early to meet with a teacher," Madelyne Rose ('23) said.
As seen in these statements, despite the challenges we face together as a community subsequently from the Coronavirus Pandemic, we are able to come together and form a place where students are not just learning the information needed for classes or passing tests, but gaining life skills guaranteed to help them become more successful. While this year's dining experiences might look a little bit different than previous years, North Point and its administration will continue to provide, and listen to students and their needs, throughout this year, and pawsterity to come.