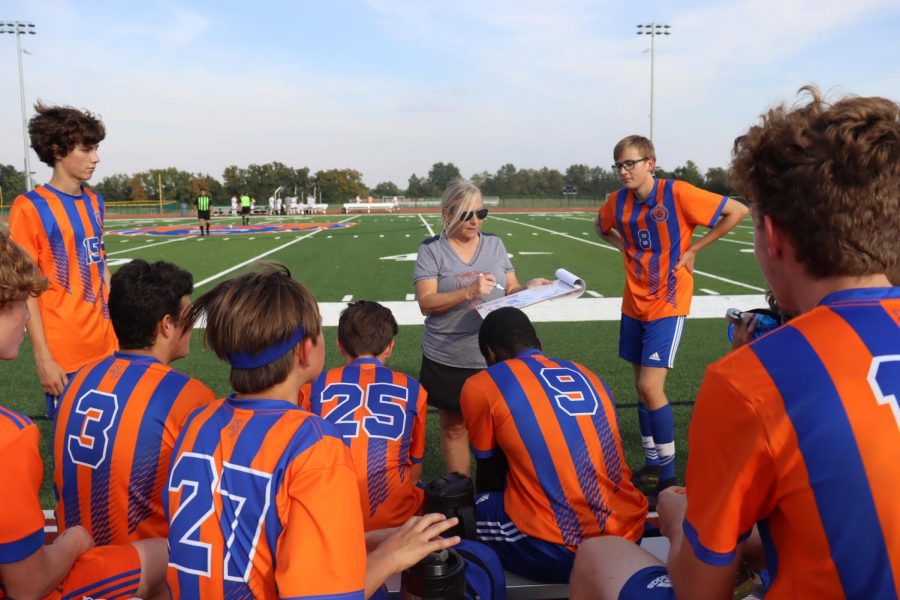 JV Soccer's First Victory
The junior varsity soccer team is kicking the season into high gear. Their first season win was against Maplewood-Richmond Heights, with a 2-0 win. The game consisted of goals by Parker Trigg and Andrew Robinson, assists by Logan Blase and Dane Lawson and shutouts by Brayden Harris and Jonah Shoemaker. 
North Points JV soccer is led by Head Coach Swanson. 
" This is the first game where I saw consecutive passing and good communication, Swanson said.  "They are also starting to read each other better on the field." 
That was something all the players agreed on. Their communication was much better at the Maplewood-Richmond Heights game. Although the team could use some improvements, they are well on their way to being a competitive team. 
"One of are many strengths is that we work together very well on the field, but one of are weaknesses is that we need to work on our communication on the field," Jacob Hagen ('24) said.
Though they might have some things to work on, they still defeated their opponents on the field. Being the first JV soccer win, that was a major moment in North Point history.
"The win felt good, but I was mostly happy for the team," Jonah Shoemaker ('24) said. "It felt like we were really developing and growing."
Jonah is the starting goalkeeper for the team.
The whole team agreed that the win was very exciting. They also agreed it was a great accomplishment for the team. This year's JV team has big hopes for this season. 
"This season I hope to win at least two more games," Brice Balcom ('25) said.  "I think that is a good goal for the team."
Their coach, Mrs. Swanson, continues to motivate them by having a good attitude about this season.
"You don't get better unless you play competition superior than you," Swanson said.