North Point Pride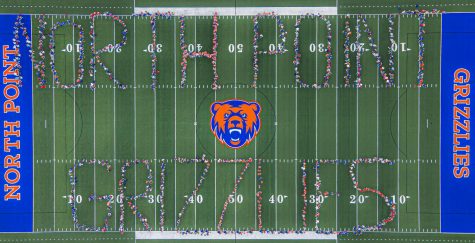 On august 27, 2021, all of the Grizzly students walked out the den into a line up of spirit and headed to the football field. A tunnel was made up from multiple Grizzly teams and the band. 
The 700+ students were called down by the hall they were in at the end of the school day and had a very limited amount of time to spell out 'North Point Grizzlies' on the football field. 
As students filed out onto the field, they were directed to cones that marked where the letters would soon appear but instead of being written, it would be in human formation.
The task might have seemed challenging to some at first, but with cooperation from the students, it ended up being easy peasy and was done within minutes.
It felt like it was a hundred degrees, but that was not going to deter the spirited students..
"It was too hot out, but I think it was really good for the school to do because the picture turned out really well," Maggie Wallace ('25), one of the dancers in the tunnel said.
From multiple teacher's perspectives it was nice to see all the students altogether because, up until then, most of the staff just saw small groups of students, not all of them at once. 
The teachers and staff at North Point have done something similar on the field already. They did the letters "NP", which mapped out what the students did in a way.
How the experiences were for everyone was different, yet the same. It was a unifying moment to some, extremely hot to others and just a fun moment to interact with new and old faces.
 It was simply amazing to see so many people come together for the first time in a while and to many it felt more normal than ever, especially since the ongoing pandemic has affected everyone in different ways.