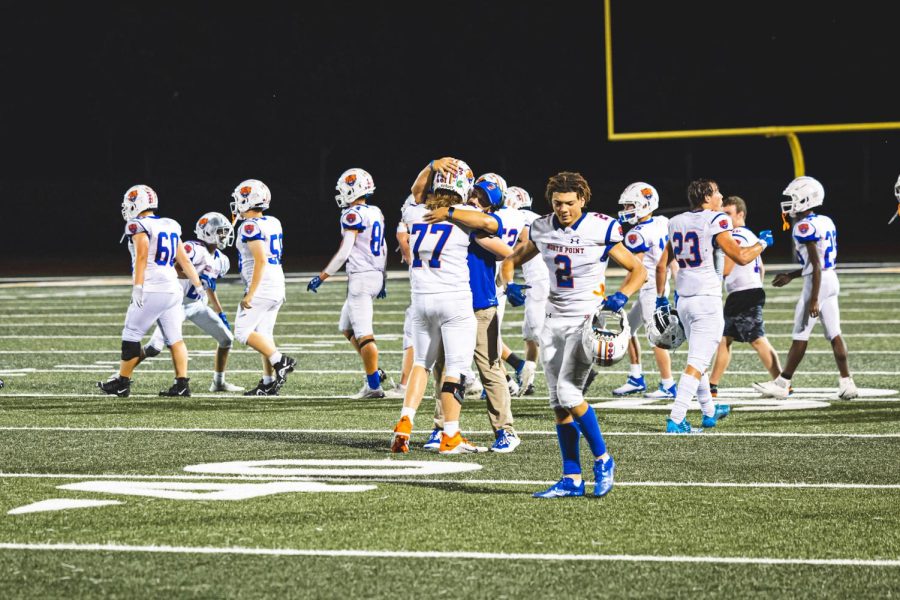 Beating East
Throw back to September 16 of 2022. The Grizzlies football team took on the Fort Zumwalt East Lions. There were many hard-fought battles such as injuries, but most importantly the battles on the field. A "dogfight" is what you could call this game, and it was a monumental day in our football program's history that will be remembered forever.
"I was nervous but confident at the same time, I felt like we could do something special with this game, rather than others," Amaree Johnson ('24) said.
Most Friday night games are full of a mix of adrenaline, confidence, tiny wins and losses, and last but not least competitiveness. This is especially important with two teams that have started off their season 0-3. Both teams wanted to break into the win column just as much as a dog wants their bone. 
"My mindset was to win at all costs," Carter Briddell ('25) said.
Winning is a big deal for every program, but when you are as young and fresh as we are, a win at the varsity level is a huge accomplishment. Most sophomores don't play at the varsity level until they are a junior or even a senior. 
"The last touchdown to put us ahead was a surge of emotion," Hoyt Gregory ('25) said.
The last touchdown was a passing touchdown to put us up 14-13. When there were nine minutes left in the game, our defense just needed to keep them from scoring. On the next drive, our defense came, got a forced fumble and recovered it. The offense went on to an 11-play drive and punted the ball to the east 22-yard line. The defense got the stop and we received the ball at our 49-yard line. A four-play drive punting the ball was all our offense could do.
East got the ball at their 47-yard line. The Grizzlies ended up throwing an interception to sophomore Riley Deslatte, who ran it back to the East's 29-yard line. The offense took a knee and the North Point Grizzlies will have their first win.
"Riley was just running and I didn't even know what happened so, I started blocking and then I realized that we just won the game," Kolten Witbeck ('25) said.
There was a fair share of celebrating on and off the field with many hugs given. In the locker room, everyone was hyped and excited about the win, and the team and coaches celebrated their accomplishments.
"We took the win well and we didn't do anything out of pocket," Hoyt Gregory ('25) said.
This day in our football program's history is a very huge part of the growth and the ability to keep moving forward and to get better.