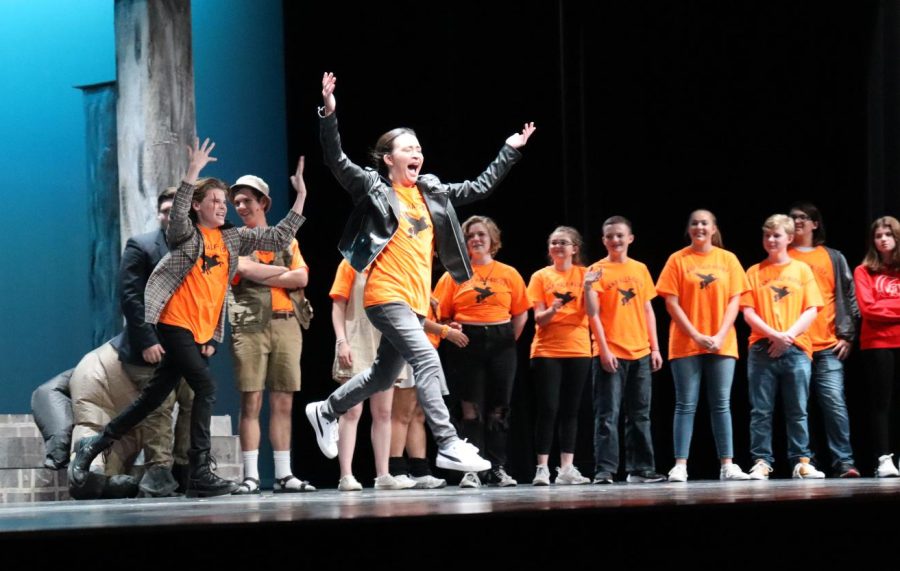 Inside the Minds of the Percy Jackson Cast and Crew
The Percy Jackson Musical, officially called "The Lightning Thief: Percy Jackson Musical, was the first time for many to get on the stage or use their speed and wit. While an outstanding performance to the eyes of the audience, for the people behind the scenes, there were many obstacles and mental hurdles that needed to be passed to make such a wonderful production happen. Many had to do things they had never done or imagined themselves doing to pull it all together.
"I had to learn how to run spotlights, which I've never done before," Pax Harrel ('26) said.
A lot of big tech and equipment was used for the music, lights and sound. It takes a while to learn to use these with great accuracy to make sure it is all on time when it was needed during the musical. 
There was a lot of pressure put on those who participated in the musical, the build-up to the big moment weighing on people to get things right. 
"Leading up to opening night gets harder because you have to make sure everything looks really good, and if it doesn't look good then you're kind of stressed out about it," Rachel (Asher) Ackerman ('26) said.
Ackerman was part of the stage crew, but the actors also had to put in a lot of work and effort to make sure they got every line so that they could perform their characters the best that they could.
"I had to be onstage pretty much the entire show, and I didn't really get any breaks," Tyson Swetnam('25) said. "So I had to learn to take care of my voice and my body so that I could make it through the whole show, not to mention all the lines I had to learn." 
Weeks of work were put in for the props and set pieces to be created to make scenes come to life. Before the props were finished, the actors and crew had to imagine how everything would fit and where things would go and had to fix and reorganize if things didn't fit correctly. Figuring out how to make things move smoothly also took some thinking.
Overall, everyone could tell that the audience found the performance outstanding.