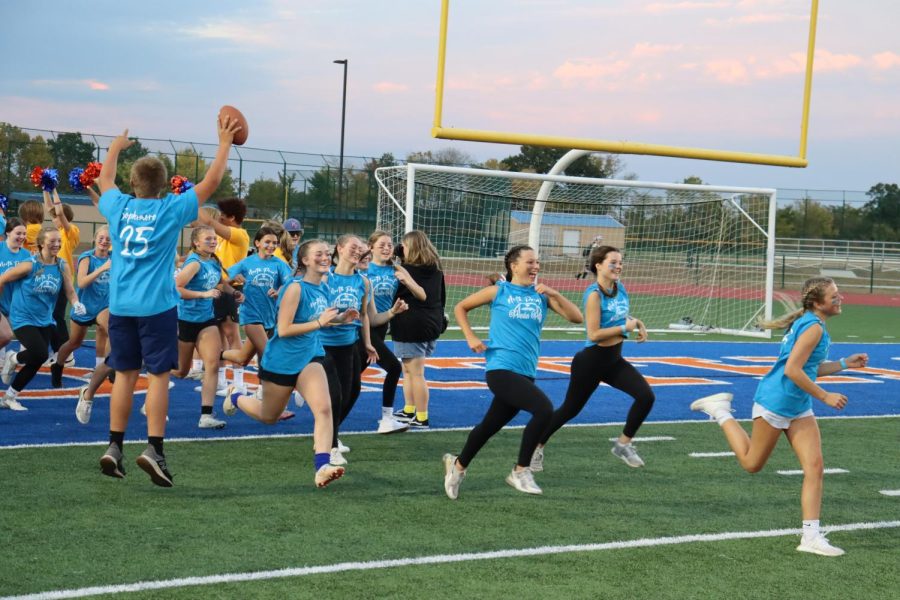 Get Tough at the Puff
This year at North Point on the football field, the first-ever powderpuff game was held. This game premiered on October 5th during homecoming week. The freshman and sophomores had their own teams while the juniors and seniors combined. The sophomores beat the freshman and continued to play the upperclassmen.
The sophomore girls were determined to win as well as their coaches Joel Massey, Peyton Briddel, Hoyt Gregory, Caleb Stehr and Evan Berkbuegler. The coaches went hard on these girls and hoped it would be worth it. "Our team's great preparation led to a great outcome," Joel Massey '25 said. "I was confident in my team's success."
The sophomore team was by far the biggest as they had two full rotations with extra people. Slot receiver Alyssa Anderson made a great impact on her team. "As a wide receiver, I got some pretty good plays and I got a touchdown for our team," Anderson '25 said. She helped carry the team with her other receivers Elena Pender, Evelyn Martin and Catherine Hunn.
Even the girls took measures into their own hands having extra practices on their own time. "To prepare we had like 4 practices, 3 of them were during WIN time and the last one was on Saturday for an hour," Anderson '25 said. This was where they practiced plays and determined the lineups.
On the other hand, the upperclassmen struggled to find extra time and keep their numbers steady. "Before the game, we practiced our plays in preparation." Alli Cook '24 said. "We only had a few people on our team and people kept leaving." It didn't look like a bright future for the upperclassmen and that showed when they didn't score a touchdown.
However, the team kept positive spirits as it was a memorable experience as their high school journey is coming to an end. "I wasn't bothered that we lost because our team wasn't very stable and our numbers were constantly going down during practice," Cook '24 said.
The sophomores took the win and are hoping to continue their winning streak as upperclassmen. "It felt really good to win because it was our first year and we were still growing as the class of '25," Mella Noah Avalos ('25) said. 
Overall, this experience was a great way for each grade to come closer and hang out with people you normally would not have met. "I loved playing in the game because it brought me closer to people in my grade and brought out my competitive spirit," Catherine Hunn ('25) said.