An Update On Damar Hamlin
On the second of January of 2023, Damar Hamlin, fellow safety player on the Buffalo Bills football team, had suffered a cardiac arrest and collapsed onto the field.
In the first quarter of their game against the Bengals, Hamlin had been tackled by the other team's receiver, Tee Higgins, leaving the two on the ground, Almost immediately after, Hamlin had stood up, took two steps, then fell, suffering a cardiac arrest. Fortunately, with medical CPR, Hamlin's heartbeat had successfully received.
Hamlin was shortly taken to the hospital afterwards in critical condition. He is still in this condition as of this article's production, and has yet to see a recovery. The game between the Bills and the Bengals was shortly suspended due to the situation.
Thousands of others have supported Hamlin ever since the incident took place. For instance, shortly after he made it to the hospital, the entire Bills team had knelt and turned to prayer on the field for their fellow safety player, and friend.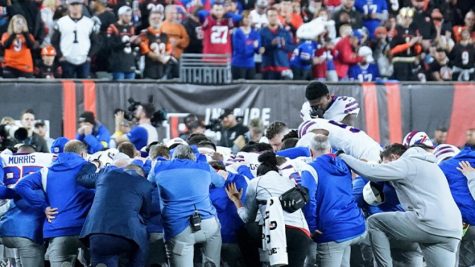 Two days after the game, a public fundraiser was set for him for a goal of $2,500, but had exceeded an astounding $7 million.
On top of this, many of the football fans who watched or heard of this happening showed their support through social media, whether it be through Twitter, Snapchat, Instagram, Youtube, and so on. The Bills team have even been on Twitter themselves, saying of how Hamlin's condition is slowly improving, and thanking everyone for the large amount of support.
According to an article on the NFL site, "'No changes have been made to the Week 18 schedule,' the league said."
What this incident means for the entire NFL season is still unknown, due to no rescheduling of the game being made. However, not much speculation has been made due to the huge uprising of support for Hamlin, which is very well deserved. Whatever happens with the schedule as the season winds down to the Super Bowl is up in the air.
As said before, it seems that while still in critical condition, Hamlin has been getting slightly better, bringing many players and fans hope for him.