Are School Dances Worth It?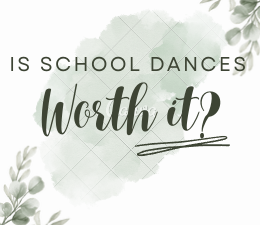 Juniors and Seniors, the hierarchies of the high school world. Why am I mentioning them? Well, there is this formal dance called prom that the upperclassmen usually attend. Is formal dances worth it though? All the stress of having the perfect experience, the 'High School Musical' experience if you will.
There is a lot of stress put into prom. Finding a date, having the right dress, suit, or outfit, reservations for a nice dinner place, pictures, making sure everyone gets a picture together, making sure you all look absolutely perfect. 
But all that stress is worth it when you get to look back at all the memories you made. All the laughs you share with friends and family, being able to let loose and have fun with your peers and classmates, having fun and making core high school memories.
It's not just the dance itself though, it's the week of the dance too. You have the football game, the fun dress-up days, and just the overall excitement and energy of the people. It's something you and your peers will discuss for the rest of your life. You talk to your children about it when it's time for their prom and other school dances.
Teenagers want the perfect 'High School Musical' experience, they try to make everything perfect, but sometimes it does not have to be perfect to be the perfect prom. Everything happens for a reason, and sometimes mistakes can make the dance the perfect dance.
I say dances are worth all the stress that goes into planning them, and just the overall experience as well. It's definitely an experience that all high school students need to have at least once in their life. For the core memories and the involvement in as well. You won't regret it as well.