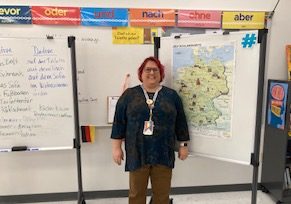 Meet Ms. Dee Elder
Mrs. Elder is North Point's only German teacher, she worked previously at Wentzville Middle School and at Holt High School. She made the transition to North Point full time this school year, joining the multitude of new administration we have with us this year to support our growing community.
She grew up in Kansa, surrounded by her family's German language and heritage, including her grandparents who speak German. 
"I speak fluent German with my son and daughter at home, but I predominantly speak English here in Missouri," Elder said. 
She hopes to influence her students positively, and motivate them to learn and find enjoyment in education, especially with the advantage of becoming bilingual. 
"I started speaking German in seventh grade, in order to assimilate with my family who speaks the language, in addition with the desire I had to learn and obtain a new language," she said. 
We are excited to see what the future holds for Mrs. Elder and her passionate students throughout the school year, and those to come.
Hundreds of students will congregate in Mrs. Elders classroom, coming together to learn an entirely new language, a new way of speaking, gaining intelligence, intellect, and comprehension of a different culture. 
Being involved with students inherently creates a strong between students and administrators, that may lead to positive life decisions, guidance, and increased attention and focus in their learning environment.
"I enjoy being a teacher for multiple reasons, I love watching my students progress and slowly become more comfortable with the language, watching them build skills and knowledge with their newly learned language," Elder said. 
Being engaged with students, such as the environment Mrs. Elder has created in her classroom, allows students to consciously choose to learn and gain understanding through the hands on and welcoming atmosphere.