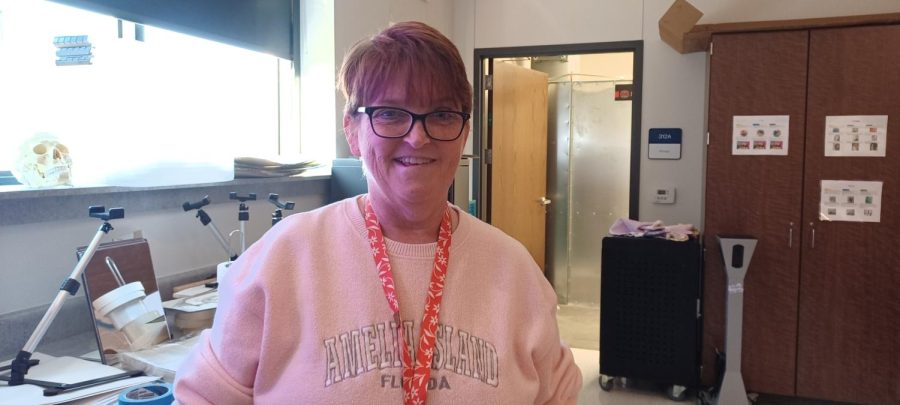 Meet Mrs. Stephanie Kinnison
As a long-time teacher of 26 years, Ms. Kinnison has said how much she loves being at North Point. Having taught at several other schools in levels of elementary and high school at John F. Kennedy High School, Clayton High School, Ian Catholic school and many elementary schools in the Wentzville area, Ms. Kinnison has always liked to change things up.
"I've changed paths a lot, and I love change," Kinnison said.
Ms. Kinnison teaches Intro to Art and Graphic Art classes, but besides the fact that she teaches art, she also enjoys doing it for fun outside of school as well.
"I read a lot, and I love painting, drawing, walking, redoing things in my house," Kinnison said about what she likes to do outside of school.
Being a teacher for over two and a half decades you experience both good and bad experiences. Ms. Kinnison talked about how some of her favorite memories and experiences of teaching have been from students.
"I don't really know how to tell the story, but I've had students who I've heard from after they graduated and we were able to really connect," Kinnison said.
With good times come bad times as well. Ms. Kinnison talked about how her least favorite thing about high school has been losing students throughout the years from many different causes.
"Probably the toughest thing, when I used to teach high school before, was losing students," Kinnison said. "I lost a few, car accidents and such." 
Despite these trials and tribulations, Ms. Kinnison has continued to power through and impress the people of North Point with her ability to teach and preserve during tough situations. She cares deeply about the students she teaches and keeps coming back because of them. We're lucky to have her as a new teacher here this year.