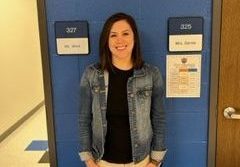 Meet Ms. Paige West
As a new year begins at North Point, we are all blessed and excited to be welcoming a whole lot of new students, teachers and staff. Out of all the new teachers we have a new addition to our FACS department who you may know is Mrs. West, if not, she teaches Human Relations, Senior Facts, and Leadership. She will start teaching Culinary I and II next school year.
"I was involved in FCCLA and loved FACS when I was in high school and it inspired me to become a teacher," West said
Being in FCCLA in high school inspired her to become a teacher. Some of her favorite parts of being a teacher are seeing her kids succeed and seeing the kids grow and learn new things.
"These classes teach real-life skills that you can use when you get out of high school," she said
Life skills can go a long way through your life and you can use things like culinary arts that you can use in the future like when you have to do things on your own. Coming to North Point is a big deal for her because she has family in the area and she loves the family atmosphere here.
"Everyone here gets along with each other and the family atmosphere here is amazing," West said.
West wants students that had her as a teacher to learn, grow and succeed even when they leave her class.
"Seeing a student succeed is the best feeling as a teacher that you can have," she said
Mrs. West is a great addition to our Family consumer science department. She hopes to continue to impact our building and our student body in many ways in the upcoming year of our school.