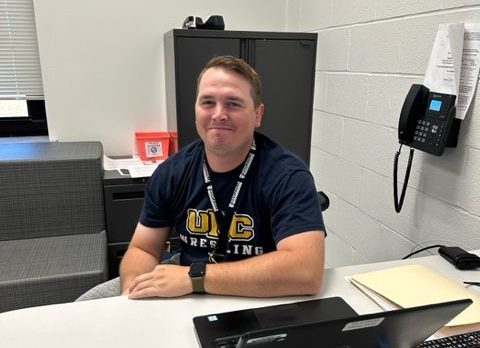 Meet Mr. Jesse Freise
The new year has brought new teachers to the den. We have proudly welcomed new driver's ed teacher, Mr. Freise. With the cool name and a bright future ahead, Mr. Freise is ready to introduce new drivers to the streets. 
Not only is he new to the school, but he is also a brand new teacher in general.
"I feel so accomplished being here and being a new teacher," Freise said.
Sometimes being a new teacher is tough but he is striving with lots of grizzly strength and pride. 
Mr. Freise is a tough guy as he is a wrestling coach.
"If I had to be anywhere in the world right now, I would be at a wrestling tournament somewhere," Freise said. 
Mr. Freise is a pretty interesting guy.
"My favorite Gatorade flavors are glacier freeze and riptide rush," Freise said. "If I could have anything in the world right now, I would have unlimited gas so I can get around to the different schools I go to during the day. As a drivers ed teacher, this wouldn't be a surprising answer as it relates to driving. Gas prices are either low or high, sometimes just depending on the weather it changes so much, this would be a pretty reasonable accusation overall."
A very controversial question is, what is the best cereal. "
What do most people say?" Freise said as he didn't know how to reply to the random question.
He broke the ice with an answer to the impossible question.
"Golden Grahams I guess," Freise said as it was probably the first cereal brand that came to mind. 
Freise wanted everyone to know one thing about himself. As a new teacher everyone should at least have one thing everyone should know.
"One thing I think people should know about me is that I care," Freise said.
Welcome to the Den, Mr. Freise.