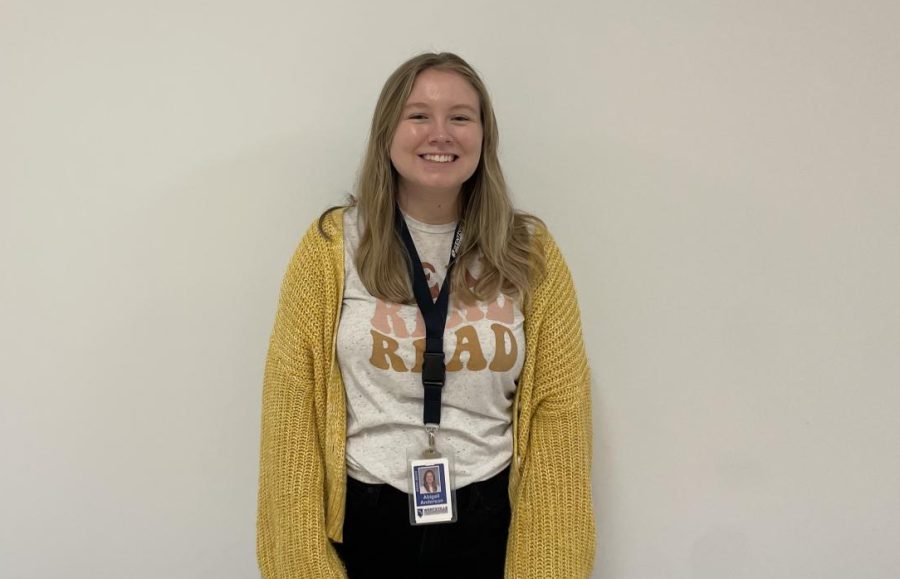 Meet Ms. Abigail Anderson
As only a second-year teacher, she has had some pretty great times here at North Point and Hazelwood Central High School. Ms. Anderson teaches English 1 and English 2. She is also an assistant cheer coach for the JV and Varsity teams. Although she can't decide which school she loves more, the thing she loves the most about our school is the freedom that it allows students to have. 
"I like watching the teams learn the routines and then watching the girls perform at the football games," Ms. Anderson said.  
Ms. Anderson is one of many students' favorite teachers. She gives her students a lot of freedom in class. She makes her class fun with the activities and worksheets that she does. Ms. Anderson had always wanted to be a teacher.
When she was younger, she would play school with her younger brother. When she was playing school with her brother, she was practicing how to be the best teacher.  
"I love how much freedom this school gives the students," Anderson said. "That's probably my favorite thing about North Point." 
Ms. Anderson is one of many cheer girls' favorite coaches. The girls think that she is very comforting and loves when she learns the routines so she can help out the girls more. Some of the girls said that she is always happy and that makes everyone else happy.  She is always making sure that everyone on the team is good and well and isn't stressed about anything.
 "Ms. Anderson is very comforting to talk about anything" Madison Deeker ('25) said. "She is very understanding about home life and personal issues."  
Ms. Anderson has a positivity that is contagious.
"She is very open-minded and proud of the team for every accomplishment and milestone," Kyla Clayton ('25) said. "She is encouraging and positive and she tries to help whenever she cares ."