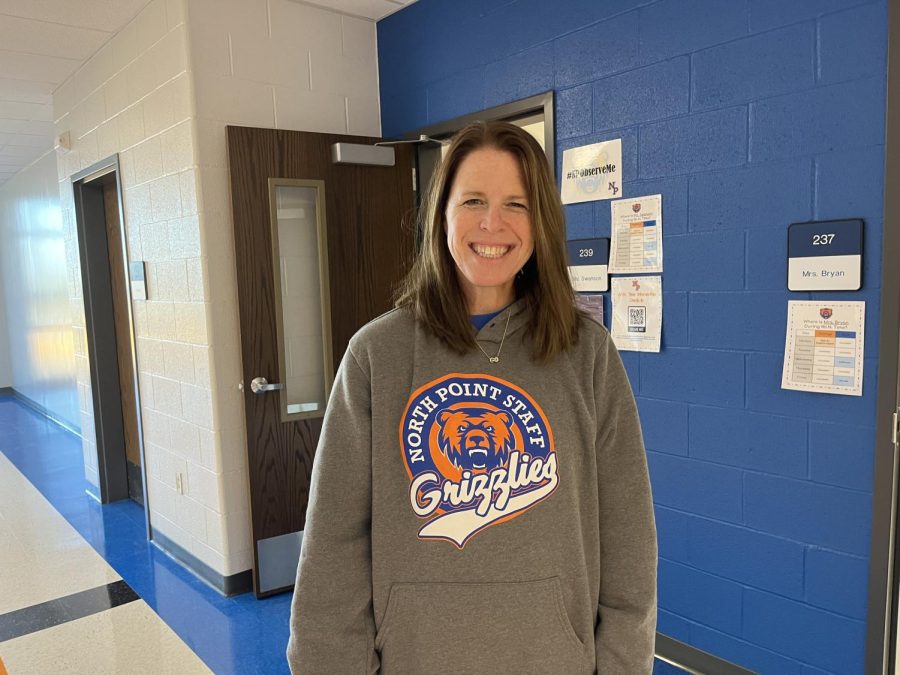 Meet Mrs. Jenn Bryan
As the new year begins here, we are all excited to be welcoming many new teachers. Mrs. Bryan is one of the many new teachers here and has been teaching for 16 years now. She loves to help her students and cannot wait for the school to grow
Mrs. Bryan did not only work here at North Point. She was teaching in a different school until she and her husband decided to move back to Missouri for his job.
Mrs. Bryan came here because she moved from Palmyra, Missouri,
"My husband and I decided to move to St. Louis for his job and I was excited because it's a new school and new culture and it seemed like a good start, " Brayn said.
At her old school, things were a lot different and there are so many great things about North Point that make her like it more than her old school.  There are many more things offered here compared to her old school where she taught.
Her favorite thing about North Point is our school colors and some of the sports we have here.
"I love the school colors, mainly the blue it's more peppy and bright, and the sports that are offered here because there are way many more sports offered here than my old school, and I love that," Bryan said. "I also love the newness of the school and the culture that is being built."  
Mrs. Bryan has always taught English and has for 16 years now and she has also taught ACT prep. Bryan says the most exciting thing she has ever done was when she was little and she was flying over the islands in Hawaii in a helicopter and there were no doors. The most exciting thing she has done as an adult is the tough mudder she did.
"It was really hard but very fun," Bryan said. 
A cool fact about Bryan is that she runs for a little girl with autism.
Mrs. Bryan cannot wait for the next few years here at North Point.