Biggest Mac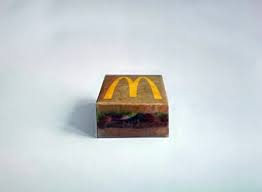 Kanye West announced that he would be collaborating with America's most famous fast food chain Mcdonald's. Famous people collaborating with Mcdonald's is very popular, but no one has ever done it like this. Kanye is not just making a burger or a meal but he is re-imagining the Mcdonald's packaging. 
Kanye has been known to pursue other creative interests. Many know Kanye's career started as a producer creating beats for other artists to gain recognition. In 2006, Kanye created Yeezy, his very own clothing line. 
Kanye, being the genius entrepreneur he is, has collaborated with lots of different companies and businesses. So Kanye is not new to the idea of collaboration with businesses. 
So let's get to the real reason that Kanye is collaborating with Mcdonald's and what this means to the world. The real reason Kanye is collaborating with Mcdonald's is to send a message. 
Kanye has recently converted to Christianity we have all seen a change in direction in both his lifestyle and the purpose of his life and more broadly his music works like Jesus is king and "Donda" have been his two latest examples and this McDonald's burger is his latest.
There are however a lot of different Interpretations of Kanye's life, music, and other motives behind his art so we asked the opinions of other students at North Point how they feel about the Kanye burger. 
"I haven't tried it yet, I think that it relates to Jaden smith because I just think that the burger relates to the political and economical state of the world," Alex Lacke (25) said. 
We agree with Alex because we think the burger has a deeper meaning than just being a burger. 
"Kanye's idea is genius. He is the goat," Jaydon Porter ('25) said.
Be on the lookout for the new packaging at McDonald's by Kanye West.