"Uncharted:" Movie Review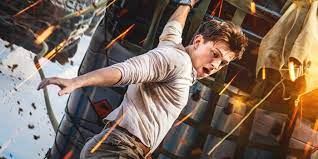 The movie "Uncharted" was released on February 18, 2022. The movie had box office results of $226.4 million globally. It's based on the very iconic "Uncharted" video game franchise, in which its final game, "Uncharted 4: A Thief's End," sold at least 15 million copies.
In this film adaptation of the games, a treasure hunter named Victor "Sully" Sullivan recruits a street-smart Nathan Drake to help recover an important treasure. One that has been lost for 500 years, amassed by the famous Ferdinand Magellan. What begins as a simple heist turns into a dangerous race against the ruthless Santiago Moncada, a man who also wants the treasure.
There will be spoilers for the movie in the rest of this article, so if you haven't seen this movie already and still want to see it, watch it before reading the rest of this.
The plot for this film is simple, but fun. While the film never loses its excitement, it never reaches a breaking point. It's overall a good plot that is a little out there in terms of being set in the real world, but overall still a fun one.
The characters for this film also never seem to be interesting ones. The two main characters, Nathan Drake and Victor Sullivan, only have a few common goals in mind, and their missions never really change. Of course not a bad thing at all, just not as interesting as it could have been.
The villain's side of the story was a bit more interesting, taking quite a few twists and turns, it kept the tension in this film apparent, as each side was slowly making their way towards the lost treasure that they want to find.
Overall, this film was a fun action-adventure film, but it wasn't amazing. It's a good film, one that has near to no flaws whatsoever, but there are other films that are many times better than "Uncharted." An eight out of ten.