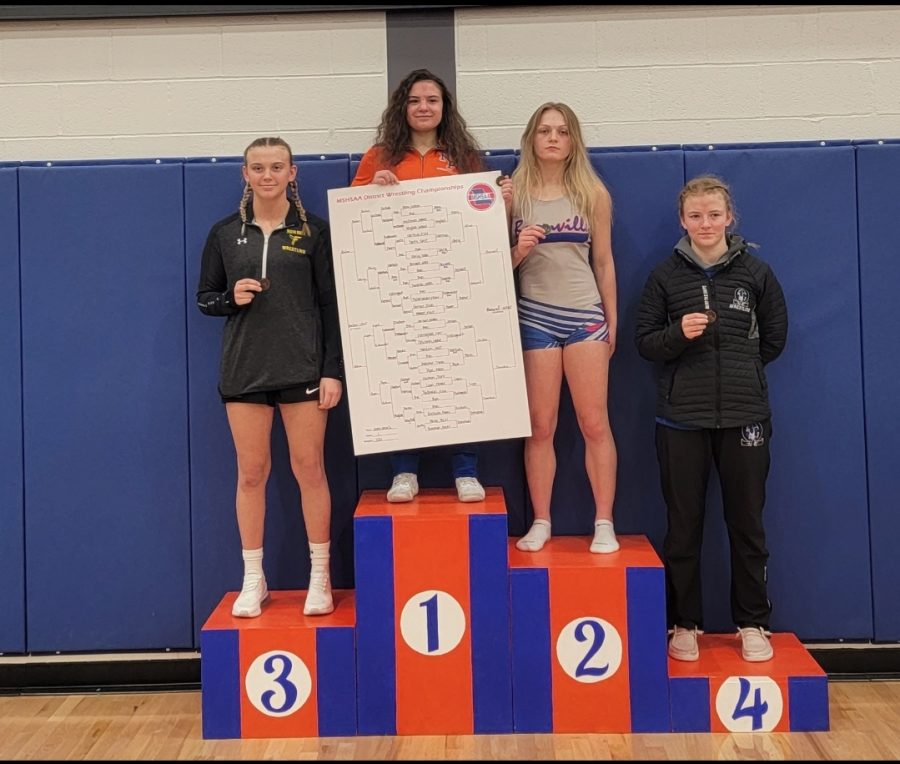 Cassidy Benwell Wrestles Her Way To State
February 11, 2022
Cassidy Benwell ('24) is the first-ever state-qualified wrestler. She took first place in Districts, which our school hosted. Benwell has been wrestling for a while.
"My brother needed a wrestling partner, and I was there," Benwell said. "My dad decided it would be good to keep me in wrestling. So I continued it." 
 Much like many other female athletes, she found it hard to earn her respect, in a male-dominated sport, like wrestling. When she first started wrestling the boys didn't like it or accept it. Until she started winning. And she kept winning. 
"I look forward to getting first," Benwell said ('24). 
She has excelled on the wrestling team by winning the majority of her matches, including all of her district matches against her strong opponents. She is expected to do well at state and bring home a win. She competes in the 120lb weight class. 
This year's state is being held in Columbia, MO. It is hosted at Mizzou. The state is being held at the same time for both girls and boys wrestlers. 
Benwell came late to the season this year. She and her brother Chad Benwell ('25) moved from Maryland to Missouri this year. 
"When I got here, I was hurt because of a wrestling tournament," Benwell ('24) said.  "So I was a little rusty. But as the season continued, I'm still trying to get back to where I was."
This season, and her whole career, has been a persevering experience for the young wrestler. She's had to overcome injuries, losses and discrimination from the men of the sport. 
Benwell's sophomore wrestling season will come to a close after she comepets at state. This is what every wrestler has been working for. A chance at the highest honor in high school wrestling. Hopefully, she will come home a winner.