Super Bowl Predictions
Whether you are a football fan or not, the Super Bowl is something celebrated widely here in the United States. It has become a spectacular display of professional athletics, superstar halftime shows, and for those of us watching at home, we are entertained with the most memorable commercials. Many of us gather to watch the big game surrounded by friends and food, and we treat Superbowl Sunday as a national holiday. 
As Superbowl 56 narrows in on us, we were left with four teams ready to win their conference titles and a chance at the Superbowl. The San Francisco 49ers faced the Los Angeles Rams for the NFC Championship on January 30 at 5:30 central time. And the Cincinnati Bengals faced off with Missouri's own Kansas City Chiefs for the AFC title game also on January 30 at 2:00 central time. 
The big question on everyone's mind was who is going to win. Although the students were polled here at our high school and an astounding 62.8% of those who responded to the poll picked the Chiefs to win, they were dismayed. The next leading pick was the Los Angeles Rams with 9.3% of the votes and both the Bengals and the 49ers came in last tying at only 7%.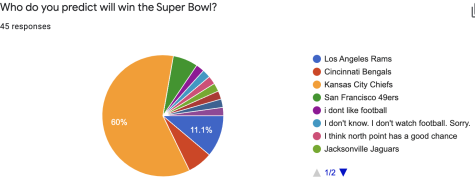 Even our very own head football Coach Zangrilles provided some insight into why the Chiefs would become Super Bowl champs.
"They play all three phases well and their defense has improved," Zangriles said.
He predicted that the Chiefs will beat the Rams in the Super Bowl 34-27. Unfortunately, he was wrong with his prediction.
Coach Zangriles also shared that our high school football team mimics the Chief's playstyle. 
"Our motions, special teams, RedZone plays and trick plays model theirs,"Zangriles said. 
Many students were stunned by the results of the NFC championship.
"I was really surprised because they were up by so many points at the beginning and then the Bengals came back," Parker Trigg ('25) said.
With a 21-3 lead
"I think they should have won because that was our team and it was so close," Raeleigh Meyer ('25) said.
With a two-week break before Super Bowl, we will see who our school predicts to be the Super Bowl Champs now.