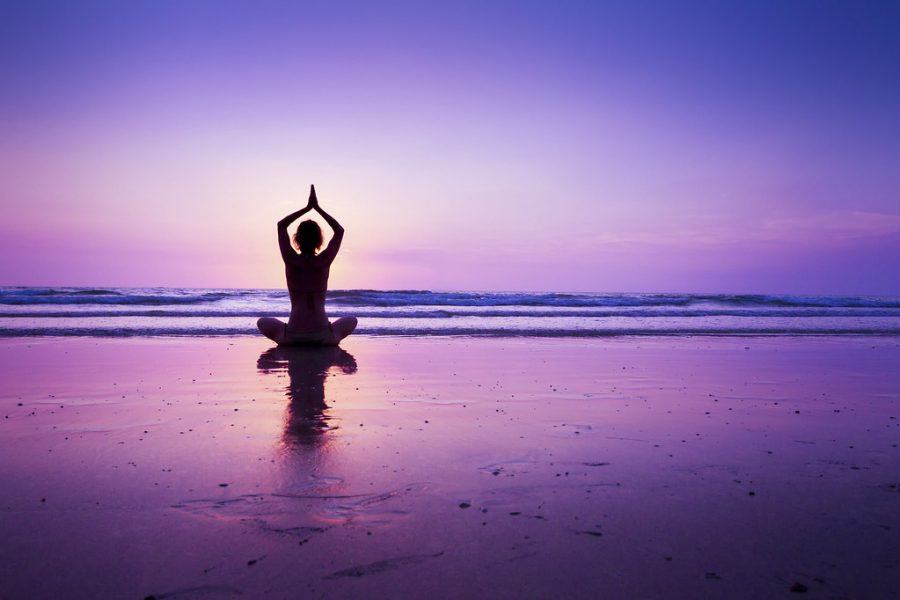 Stretching the Outreach of Yoga 
Yoga, an ancient practice and meditation, has become increasingly popular amongst many. Despite its proceeding reputation of being inane, which does not accurately depict its astounding results, it offers many benefits to individuals who partake in this practice continually passed down throughout the duration of time.
It was developed by the Indus-Sarasvati civilization in Northern India, dating back to over 5,000 years ago. The word Yoga was first mentioned in the Rig Veda, originating in Pakistan, located in South Asia.
Different types of yoga include Hatha, Iyengar, Vinyasa, Hot Yoga, and Ashtanga, most well known as the modern-day adaptation of classical Indian yoga.
While the question of whether participating in Yoga is cultural appropriation or disrespectful if you are not of that culture, have arisen, it has been able to be concluded over the course of many studies and compositions, written by those with cultural and ethnic ties to Yoga, that if the one partaking in this exercise is respectful both of its origins and rituals, as well as its history, and wants to engage in this practice, they are able to do so without discourtesy or being appropriative. 
Yoga is one of the oldest practices of meditation, mindfulness and exercise that has been implemented throughout the written history of the world, as well as being one of the most diverse of its kind. Some of its valuable assets include its accessibility, as there are infinite resources online with monetary cost, and within literature for people of all demographics and within most regions. Many different types and adaptations of the original practices of Yoga subsist, making it adaptable to every individual. Because of its astounding versatility, which not only allows for its vast appeal to a variety of people, making it inclusive, it is also suitable for any individual and their personal needs. 
Yoga also provides many benefits to the human body, as well as the mind. Like other forms of exercise, Yoga can improve someone's mood due to its inherent ability to lower levels of stress hormones and increase levels of oxygen to the brain, due to the increased production of biological peptides and valuable chemicals such as endorphins. It can also elevate levels of a chemical, by the name of Gamma-Aminobutyric Acid, or (GABA), which acts to slow certain nerve signals in the brain, thus playing a vital role in how people experience anxiety, stress, and fear. Studies have also shown that Yoga is an effective practice that can reduce the effects of PTSD, Anxiety Disorders, and Depression, as a result of these inherent benefits. Another benefit of Yoga includes that the execution of the practice itself does not have to be complex or time-consuming, in order to be beneficial, thus making Yoga an expedient experience and resource to many.
It is not only available in many variations and platforms online and across many forms of media, but it is also available for participation in places such as Yoga studios, which can be expensive, or as of more recently, in schools counting as physical education credits. 
As of the school year of 2022-2023, North Point High School and Timberland High School in the Wentzville School District will be piloting a yoga course as a valid Physical Education credit. The option to enroll in this course will be available when deciding on all other courses at the beginning of February. Because this course is piloted, if the duration for this testing period goes well, then Yoga may very well become a staple, not only in our school's options for classes but also for joining schools across the district and nation.
In order to participate and be engaged in this arising opportunity, students must have at least one-half credit/semester of PE completed. If they enjoy the course and would like to retake it, they can take this course more than once and continue to receive credit. 
Even with accessibility being one of Yoga's main positive attributes, its potential to reach an even larger audience can be met by one simple expansion, with the involvement of schools. This expansion provides the ability for students to partake in the practice and meditation of Yoga in schools, which would not only allow for the potential of students and their health to improve, but also for the environment or atmosphere in which learning takes place to become more constructive, as well as increasingly more positive.
After freshman year, students are required to take another semester of PE, and by taking this course, which counts towards a credit for Physical Education, students are able to be involved in something they might enjoy and benefit from more than the traditional form of the class available. They are also able to more easily obtain all of their required credits, as Physical Education credits are required to graduate. 
Some of the other pre-existing options for PE Courses available include Fitness Walking, Personal Fitness, Team Sports and Men's Weight Training. Alongside Yoga, Women's Weight Training will also become accessible, as of the coming school year. In addition to those currently enlisted as courses, Lifetime Sports and Speed and Agility will also be open for enrollment. 
By allowing Yoga in schools, many benefits may not only be brought to the students, but also to the community and school as a whole. Students in their work environments not only in the future but now at an educational institution will be able to better manage their health and their learning. As a result, students will be more equipped to build skills that will be utilized later in life, and can potentially help these individuals be more successful throughout the duration of their life.
If you have any questions regarding course selections, Physical Education credits and electives, and new opportunities such as Yoga becoming available in the near future, please contact Kylee Grant at her email address:[email protected]