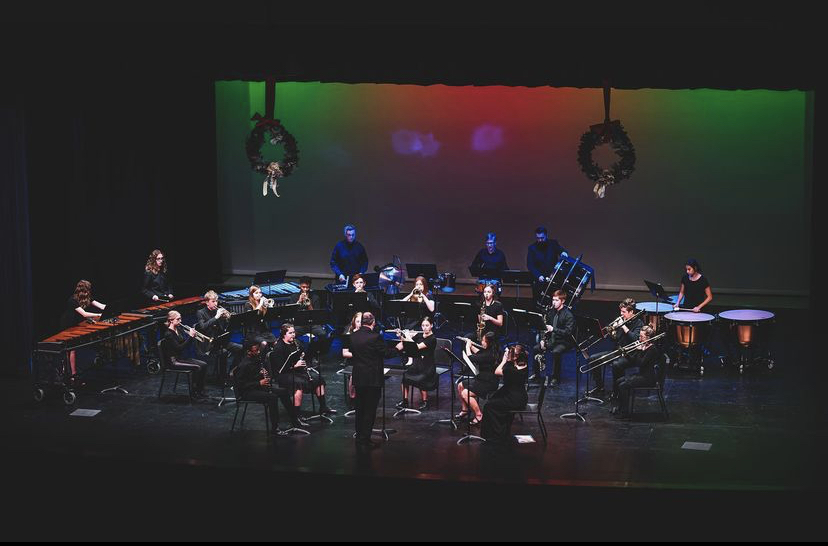 North Point High School's Band and Choir Composes Harmony at their First Ever Winter Recital
     North Point High School's Band and Choir welcomes all to celebrate and embrace the joy of this holiday season, on Tuesday 7 December, 2021 at the first ever annual Winter recital, taking place at 7:00 pm in the brand new Auditorium ornamented with festive decorations. This event shared performances from both fine arts, featuring classics and alternative Christmas songs. 
     Some of the songs that were performed this night include "Blue Christmas" by Billy Hayes and Jay Johnson arranged by Roger Emerson, and "The Twelve Days after Christmas" by Frederick Silver, from the NPHS Choir, and "Carol of the Bells" arranged by Carol Britton Chambers, and "Santa the Barbarian" by Randall Standridge presented by the NPHS Concert band.
     Both the choir and the band include students ranging from ninth to eleventh grade, who worked diligently in order to fully captivate this year's audience with exuberance. 
     "The band and I practiced every morning for around an hour for this concert as well as using multiple WIN times and time over breaks and weekends to practice," Anya Meyer ('25) said. 
     The last song performed by North Point's band called "Santa the Barbarian" combined different sections, composing both a brilliant and vehement piece, whilst also accenting the stage through the use of different colored lights, showcasing holiday emulating colors. This song also featured a guest performance from Mr. Hieger, one of North Point's own SPED teachers,  to narrate the story told behind the melodies of the NPHS Band.
     "We got our first song 'Santa the Barbarian' on Oct 27th the day after our last marching band show and we received our other songs periodically over time," Meyer said. 
     Both the NPHS Concert Band and Choir have worked cohesively within their arts, in order to best succeed, throughout the transitional period of being a part of a new school. By working together, not only have the students benefited from the experiences they have been able to partake in, due to their participation in the fine arts, but have also been able to continue to learn and progress in their specific niche, allowing for enjoyment and further erudition.
      "My favorite song to perform/play is 'Santa the Barbarian' because it was two pages long and sounded the best, it had fun parts, such as chanting and stomping,"  Meyer said. "The feeling while performing is quite gratifying, you and your friends get to show off all your hard work and have a fun enjoyable event to go along with it." 
     These exceptional performances put on by the students of North Point both exemplify the Administrators supporting the school and those diligent who occupy. Through the expression of many, and the art being created, those who partake in listening to the pieces composed, will also be enlightened.