Candy Cane Lane
     Get into the Christmas spirit by participating in our school's candy cane events.
     Starting Nov. 6 one candy cane will be hidden around the building daily. Ending the 20th there will be a total of 11 candy canes around the school. 
     No sign-up is needed to participate just go to the main office and pick up one of the candy cane scavenger hunt forms. The candy canes have a number and a letter on them, on the form write down the letter to the number and it will spell out a holiday phrase.
     Once all of the candy canes have been hidden, the first 20 people to turn in the candy cane scavenger hunt form on the 20th will get a special treat. Turn your form into Mr.Milhous in room 506 to receive your treat.
     This is a fun and interactive way to be a part of our school activities and get into the Christmas spirit. Make sure you pick up your form from the main office and get searching, will you find them all, and can you be one of the first 20 people to win?
     A special thanks to Mr.Milhous for organizing and creating this great activity. We hope everyone will get to enjoy this scavenger hunt.
Want real candy canes? Check out Stucos ¨Candy Canes for Kindness¨. They will be $1 per candy cane and will be sold in the cafe, December 13th-17th. Bought candy canes will be delivered on the 21st in your 5th-hour class. Proceeds will go to a local food pantry.
Cheer up and stay kind. There are lots of holiday things to be a part of this season don't miss out.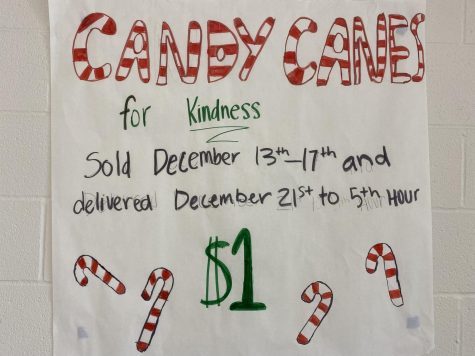 Sorry, there was an error loading this poll.