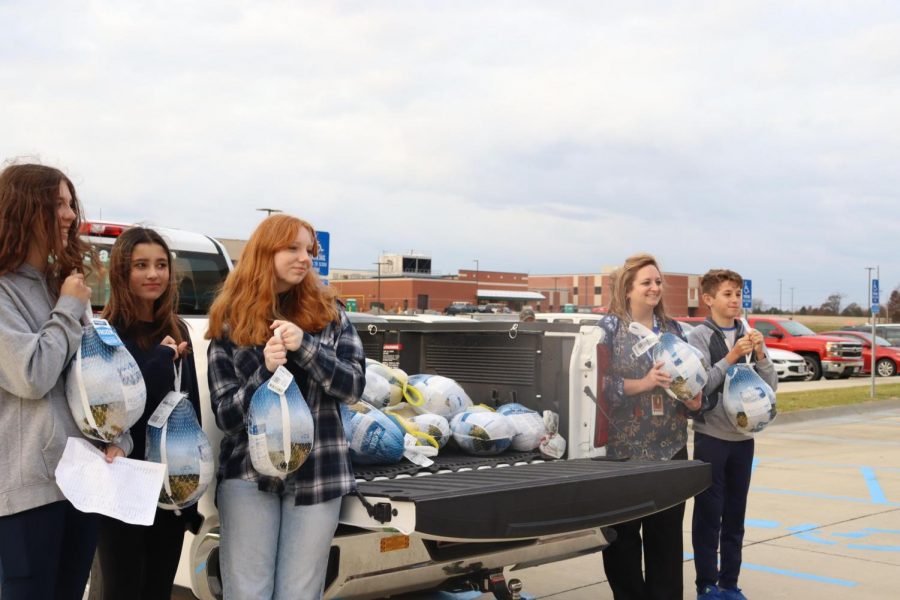 Sharing Thanks, A Time to Give
November 22, 2021
North Point Gives Thanks Through its First-Ever Turkey Drive.
North Point High School, in an effort to make a difference within our community, has been asking and receiving donations, and held its 2021 Turkey Drive for Missouri's Annual No Hunger Holiday Event. Our Turkey Drive, which was run by North Point's very own STUCO, (Student Council), and administered by Mr. Milhous, North Point's drama teacher, who had been organizing this event together with determination, in hopes of raising as much money and turkeys as possible. Money was collected beginning on November 8 and ending on November 12. During this time, North Point raised a total of $415 Dollars. 
The Turkey drive held Nov. 17 from 6:30-7:30 AM, brought in a total of 111 Turkeys for the cause. The students of North Point, prior to Wednesday's drive, stated that whichever fifth hour class raised the highest amount of turkeys and money for the drive, would receive an award, the Gobble Cup and brownies. The Fifth hour class with the most turkeys brought in was Mrs. Hill's class with a total of 17 Thanksgiving turkeys and $81.27.
Because of the effort put forth by our students, administrators and STUCO, North point was able to provide the community with food for thanksgiving that not only helps people in need, but also provides them with the enjoyment of a warm meal from the comfort of their own home, joined by family and friends harvesting memories.